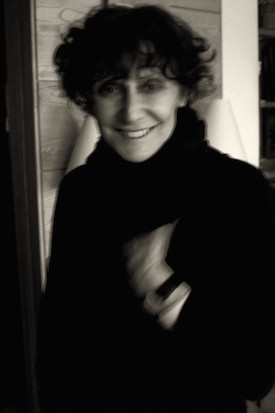 Sarah Moon
Sarah Moon is a self-taught artist: On completing her art studies, she acquired her photographic skills while working as a model in haute couture. In 1968, she finally turned from acting in front the camera to taking pictures herself and was instantly successful due to the inimitable style of her photographs. That same year, she took part in a group exhibition on avant-garde fashion photography in the Galerie Delpire in Paris. This was to be the starting point for an extraordinary carrier, which culminated in the publication of Moon's photos in leading fashion magazines like "Marie-Claire", "Elle" and "Vogue". Today, Sarah Moon is one of the most renowned fashion photographers worldwide. Her poetic, often dreamlike imagery is sustained in motifs from outside the fashion world and in her film work since the 1990s. 

There is a borderline between truth and fiction, which frequently manifests itself in Sarah Moon's work. Even though her photos seem very poetic, she is always looking for a touch of reality: the moment however fleeting, the boundary between birth and death, the magic of a single second. She invites the viewer of her scenic photographs to search for the magic of these inspired moments. At the same time she frees each motif from its historic context, in a way separates it with her camera from the present. Her photos often seem to come from a different age, much like visual anachronisms, albeit with remarkable intimacy – as though allowing the viewer for a brief moment to peep through a keyhole. 

The artist's liking for the mysterious is reflected in her often blurred motifs, which create a dreamlike, ghostly-type atmosphere. Her coloured photographs project a similar effect: Colour for a sceptical Sarah Moon is only of interest, when it elicits alienation and exaggeration. Where the dazzling visuals give way to a muted, darker coloration, the surreal scene assumes a melancholic undertone. Even the occasionally sprinkled stains in her black-and-white photos create the impression of nostalgic detachment from the world. Little wonder that Lewis Carroll's "Alice in Wonderland", Samuel Beckett or the legendary fairy-tale tellers are so often seen as the source of inspiration for Sarah Moon. 
- Paulina Szczesniak
"Photography is the soul of all moments, the soul of the moment before it nears its end."
Sarah Moon
Sarah Moon is born in Vernon, France in 1941. 
EXHIBITIONS
2020retrospective Sarah Moon, Paris Musée d´Art Moderne, France
2020"Fragments d´un Paradis", Galerie CAMERA OBSCURA, France
2019photo basel, Persiehl & Heine
2018"From one season to another", Armani Silas, Italy
 "Time at Work", Fondazione Sozzani, Italy
 "D'un jour à l'autre", Chanel Nexus Hall, Japan
 photo basel, Persiehl & Heine
 art Karlsruhe, Persiehl & Heine
2017"From one season to another", Multimedia Art Museum, Moscow
  Cologne Fine Art, Persiehl & Heine
2015"Now and then" im Haus der Photographie in den Deichtorhallen, Hamburg
2013"Alchimies", Muséum national d'Histoire naturelle, Paris
2012The Black Hood, Multimedia Art Museum/Moscow House of Photography
2011"12345", Fotografiska, Stockholm
 Théâtre de la Photographie et de l'Image Charles Nègre, Nizza
2008Cirkus, Leica Gallery, Prag
2004Kyoto Museum of Contemporary Art, Tokio
2003Maison européenne de la photographie, Paris
1993Stanley-Wise Gallery, New York
1983Center of Photography, New York City
1980Fashion festival de photographie, Arles