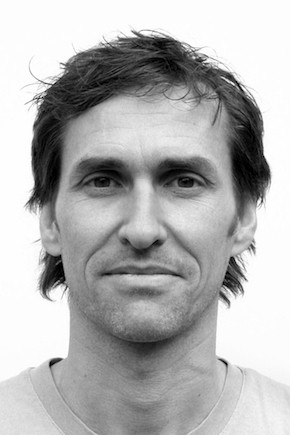 Michael Schnabel
Michael Schnabel is known for testing the limits of the visual with his photography. In his series "Stille Berge" (Silent Mountains) and in other work from the series "Nachtstücke" (At Night), he eschews the use of light to let darkness illuminate wondrously sublime landscapes. In an exposure time of roughly an hour, his large-format camera extracts just the amount of light required to capture an image of a mountain like the Bristen in the meagre light allowed by the darkness. 

It is readily apparent that Michael Schnabel is not given to any romantic longing whatever for reproducing simple beauty or majestic scenery. His mountains, oceans, the museums or photos of the sky and clouds in no way assemble "postcard art". The offset prints in the catalogue only hint at the quality of the photos displayed in the exhibition. Like paintings, Schnabel's work has to be seen in the original. That is essential. 

Mountains, water, the sky as well as more recently the museum interiors are favorite motifs of Schnabel the photographer. Light and its absence constitute the formal framework of his photos, each of which is a visual phenomenon. His aim is not to project a scenic panorama, but to concentrate on absolutely pure photography that speaks for itself, uninterruptedly. If we disregard the motifs in viewing his works from an epistemological perspective, we can appreciate how Michael Schnabel dissociates himself from the objects on which he trains his lens. The object is never eliminated but its objective reality questioned.   
As Michael Schnabel once explained in an interview: "I wanted to create an image of the mountains that stands out from any contemplated previously." 

This contrast with a conventional photographic approach leads into the world of abstract photography. Nature, on whose physical phenomena Schnabel depends, is just a vehicle for his art. It appears in a distinct light-ambience, which hides more than it reveals. The mountain is reduced to a fascinating close-up. But what do we learn about the mountains, their location and the vegetation on the lower slopes? 
These are not close-up photos, which help us identify nature in a specific location. 

Apart from any epistemological perspective, one can summarize about these photos: It is their otherness that makes them fascinating. This photography portrays itself. That is how it relates substantially to paintings. If they were painted, these pictures would lose their authenticity. These photographs are elemental. They are. 
- Tayfun Belgin – Osthaus Museum, Hagen 
Michael Schnabel, born 1969 in Neunkirchen, lives and works in Stuttgart.
EXHIBITIONS
2015"Cologne Fine Art", Persiehl & Heine, Galerie für Fotografie, Köln
 solo show, "Weißes Land", Ito Project Space, Stuttgart
2014group show, "Stay Gold, Kunstmesse Turin, Widmer & Theodoridis, Turin
 "Cologne Fine Art", Persiehl & Heine, Galerie für Fotografie, Köln
 group show, "Aus gutem Hause", Widmer & Theodoridis, Eschlikon
 group show, "Der perfekte Moment – Ikonen der Automobilfotografie", Istanbul Modern
 group show, "Fokus S", Weissenhofgalerie, Stuttgart
 art fair, Volta 10, Galerie Widmer & Theodoridis
 group show, "Die Alpen in der Fotografie", Vorarlbergmuseum, Bregenz
2013art fair, Art Genf, Galerie Esther Woerdehoff
 group show, "Bilder vom Menschen", Mannheimer Kunstverein, Mannheim
 group show, "White Photography", Nederlands Fotomuseum, Rotterdam "Neuland", Kunsthalle Emden
 art fair, "Die Alpen in der Fotografie", Städtische Galerie Waiblingen Paris Photo, Galerie Esther Woerdehoff, Paris
 group show, "Shape The Scape", Galerie Gilla Loercher, Berlin
 group show, "Unseen Amsterdam", Kunstmesse mit Galerie Esther Woerdehoff
 group show, "Eingriffe: Konstruktion/Destruktion", Widmer & Theodoridis, Zürich
 solo show, "Weisses Land", Widmer & Theodoridis Contemporary, Zürich
 solo show, "Nachtstücke", Persiehl & Heine, Galerie für Fotografie, Hamburg
 solo show, "Nachtstücke", Kunsthaus, Wiesbaden
2012solo show, "Weißes Land", Kleinschmidt Fine Photographs, Wiesbaden
 solo show, Recent work, (mit Ursula Kraft) Galerie Esther Woerdehoff, Paris
 group show, "Landschaftskult", Lehr Zeitgenössische Kunst, Cologne
 art fair, Paris Photo, Galerie Esther Woerdehoff, Paris
 group show, Galerie Fotoforum, Bozen
 solo show, "Zartbitter", (mit Claus Stolz), Kunstverein Viernheim, Viernheim
2011solo show, "Nachtstücke/Weißes Land", works of art 2001 – 2010, Osthaus Museum, Hagen
 group show, Brita Kunstpreis, "Wasser-Linien-Perspektiven", Kunsthaus Wiesbaden
 art fair, Art Paris, Galerie Esther Woerdehoff, Paris
 group show, "Wald", pavlov's dog, Berlin
 group show, "Gold Awards 1984 – 2010", AOP Gallery, London
 group show, "QPN", Nantes Photographic Fortnight
 group show, "Impossible Exhibition", Küper Galleries, Caochangdi Photospring, Arles in Bejing
 group show, "Voies Off screening", Arles
 group show, "Horizonte", Fotofestival Zingst
 group show, "Das Tirol Panorama", Tiroler Landesmuseen, Innsbruck, Dauerausstellung
 group show, "125 Jahre Automobil", Galerie der Stadt Sindelfingen
 art fair, AIPAD New York, Galerie Esther Woerdehoff
2010art fair, Art Karlsruhe, Galerie Photonet
 group show, Impossiblexhibition, Arles
 art fair, Paris Photo, Galerie Esther Woerdehoff
 group show, "Im Verborgenen", F/STOP Fotofestival, Leipzig
 group show, "Trennungen", St. Johann, Kärnten
 group show, "Es werde Dunkel!" Stadtgalerie Kiel und Kunstmuseum Mühlheim a.d. Ruhr
2009solo show, "Nächtliche Museen", Galerie Photonet, Wiesbaden
 solo show, "Stille Arbeiten", Kunstraum Haaauch, Klagenfurt
 art fair, MiArt Mailand, Galerie Esther Woerdehoff
 group show, "Es werde Dunkel!", Städtische Galerie Bietigheim Bissingen
 group show, "Waterscapes", Prix de la Photographie, Farmani Gallery, New York
 group show, "Neue Heimat", Deutsches Architekturmuseum, Frankfurt
 group show, "Art Paris", Kunstmesse mit Galerie Esther Woerdehoff
2008solo show, "Photographies du Silence", Galerie Esther Woerdehoff, Paris
 group show, "Stille Landschaften", Städtische Galerie Lüdenscheid
 group show, "Schöne Neue Welt", Visual Gallery, Photokina Köln
 group show, "Horizonte", Fotofestival Zingst
 art fair, Korea Art Fair, Galerie Photonet
 art fair, Art Hong Kong, Kunstmesse mit Galerie Photonet
 art fair, AIPAD New York, Galerie Esther Woerdehoff
 group show, Art Cologne, Kunstmesse mit Galerie Photonet
 group show, Art Paris, Kunstmesse mit Galerie Esther Woerdehoff
 art fair, Art Karlsruhe, Galerie Photonet
2007solo show, "Wasser", Galerie Photonet, Wiesbaden
 art fair, Paris Photo, Galerie Esther Woerdehoff
 group show, Selected Views, Fotografie Forum International, Frankfurt
 group show, Fotosommer Stuttgart, BFF Ausstellungen
 art fair, Cologne Fine Art, Galerie Photonet
 group show, "Ziemlich hoch – Das Alpine in der zeitgenössischen Fotografie", Kunsthaus Kaufbeuren
 group show, "Anderswo in Stuttgart", BFF Ausstellungen, Haus der Wirtschaft Stuttgart
 group show, Galerie Esther Woerdehoff, Paris
 group show, "Les Arts Décoratifs", musée de la Publicité, Paris
 art fair, Art Cologne, Galerie Photonet
2006solo show, "Stille Berge", Widmer & Theodoridis, Zürich
 solo show, "Nachtarbeiten", Visual gallery, Photokina, Köln
 solo show, "Stille Berge", Fotoforum, Bozen
 art fair, Art Cologne, Galerie Photonet
 group show, "Tiefes Licht", Kunsthalle Wilhelmshaven
 group show, Internationales Photo Festival, Xining, China
 group show, "Licht in der Architektur", Kunstmuseum Stuttgart
2005solo show, Galerie Photonet, Wiesbaden
 solo show, "Stille Berge" Rotonda/Galerie Zander, Köln
 art fair, Photo London, Galerie Photonet
 art fair, Cologne Fineart, Galerie Photonet
 art fair, Aqua Art Miami, Bank
 group show, "Work on Paper", Bank, Los Angeles
 group show, "Die Kunst der Kommunikation", Pinakothek der Moderne, München
 art fair, Art Bodensee, Galerie Photonet
 group show, "Fokus 0711", Württembergischer Kunstverein, Stuttgart "Bildwechsel"-Fotografie/Malerei, Galerie Rainer Wehr, Stuttgart
 group show, "Landschaften", Galerie edition Braus, Heidelberg
2004solo show, "Stille Berge", Alpines Museum, München
 solo show, "Stille Berge", Fotogalerie Alte Feuerwache, Mannheim
 solo show, "Cages", Bank, Los Angeles
 art fair, Art Frankfurt, Galerie Photonet
 group show, "Lichtwiesen Inszenierte Landschaften", Designhaus Mathildenhöhe, Darmstadt
 art fair, LA Photo, Bank, Los Angeles
 group show, "Scope", Kunstmesse mit Bank, Los Angeles
2003group show, "Stadt Land Fluss", TaylorWessing/Storms Galerie, München
 group show, "Geschossen und gedruckt", Städtische Galerie, Museen der Stadt Lüdenscheid
2002group show, "Fotosommer", Ausstellung für Zeitgenössische Fotografie, Stuttgart
2001group show, "Perseeve", gallery Bank, Los Angeles
2000group show, "Bilder der Stille", Visual Gallery of Photokina, Köln