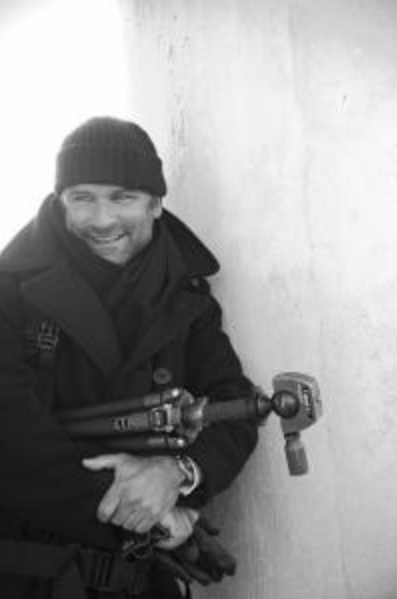 Christopher Thomas
Christopher Thomas, born in 1961 in Munich and a graduate from the Bayerische Staatslehranstalt für Fotografie, has received a number of international awards as a commercial photographer. His photo reportages have appeared in magazines such as Geo, Süddeutsche Zeitung Magazin, Stern and Merian.
As an artist, Christopher Thomas has established a reputation above all through his city portraits. The first of his cityscapes was Munich Elegies which was exhibited at the Museum of Photography in Munich in 2005 (published by Schirmer/Mosel, 2005). This was followed by the series New York Sleeps that he worked on between 2001 and 2009. The companion publication, New York Sleeps. Photographs by Christopher Thomas, was published by Prestel in 2009 (6th edition 2012) and was awarded the Deutscher Fotobuchpreis (German Photobook Prize).

In 2010 Christopher Thomas photographed amateur actors during rehearsals for the Passion Play in Oberammergau. The result was a cycle of 56 portraits that are reminiscent of paintings by Old Masters that exude the spirit of the Play. The volume Christopher Thomas. Passion. Photographs of the Passion Play, Oberammergau was published by Prestel at the same time. Christopher Thomas received several awards for this cycle such as the Silver Medal of the Art Directors Club of Germany (2011) and the German Design Award (2013). The Bavarian National Museum in Munich exhibited a wide selection of photos from this cycle from October 2011 to April 2012 in its magnificent Gothic Hall.

The following two volumes of photographs were also published by Prestel Verlag: Venice in Solitude (2012) and Paris. City of Light (2014). Most recently Engadin (2015) was presented in conjunction with two exhibitions in St. Moritz.

Works by Christopher Thomas can be seen around the world in well-known photography galleries and at trade fairs, as well as in major private and institutional collections such as the Francois Pinault Collection, the Sir Elton John Photography Collection and the German Bundestag Art Collection.
– Ira Stehmann
"Ich möchte dem Betrachter zeigen, was er zwar kennt, aber so noch nicht bewusst wahrgenommen hat."
Christopher Thomas
EXHIBITIONS
2019"Cities in Silence", Galerie Persiehl & Heine
 "City-Portraits", Galerie XII, Los Angeles
2018Photo Basel
2017"Lost in L.A.", HIGHLIGHTS Art Fair Munich
 "Lost in L.A.", Hamiltons Gallery, London
 "Beautifully Ephemeral . Flowers in Contemporary Art", Kallmann-Museum Ismaning
 "New York Sleeps", "Venice in Solitude", "Paris . City of Light", "Engadin", Flo Peters Gallery, Hamburg
2016Engadin-Photographs & Female book presentation, HIGHLIGHTS Art Fair Munich |
 Bernheimer Fine Art Photography, Lucerne
 "Engadin", Julius Bär Bank, St. Moritz
 "36 Golden Rules", Hearthouse, Munich
 "Engadin", Art Genève, Geneva
 "What would I die for", group exhibition, Bernheimer Contemporary Berlin
 "Engadin", Bernheimer Fine Art, Lucerne
 "Passion", St. Matthäus Church, Berlin
 "Passion", Herrenclub, Munich
 "Vom Allmächtigen zum Leibhaftigen – Religous works from the SØR Rusche Collection Oelde/Berlin", Kunsthaus Apolda Avantgarde
2015"Engadin", Evangelische Dorfkirche, St. Moritz
 "Engadin", El Paradiso Ski Lodge, St. Moritz
 "Winter Show #10 . Winter Landscapes", group exhibition, 19th and 20th Century Fine Art Photography, Zurich
 "Wahrheiten (Truths) – Contemporary Art in Dialog with Old Masters", Works from the SØR Rusche Collection, Oelde/Berlin
 "Passion", Foto Fever Paris – Gallery Photo 12, Paris, Los Angeles
 "Munich Elegies", HIGHLIGHTS International Art Fair Munich, Bernheimer Fine Art Photography/Colnaghi, Munich/London
 "Paris City of Light", Paris Photo Fair, Bernheimer Fine Art Photography, Munich
 "The Human Face: Christopher Thomas in the Company of Old Masterst", Colnaghi Old Masters, London
 "Views of Paris", group exhibition including "Sacre Cœr III", Kunstmuseum Picasso Münster
2014"Paris City of Light", book presentation & exhibition, Steven Kasher Gallery, New York, at Paris Photo
 "Venice in Solitude", Galerie Photo 12, Paris
 "Paris City of Light", Paris Photo Fair, Steven Kasher Gallery, New York
 "Paris City of Light" & "Venice in Solitude", Foto Fever Paris – Gallery Photo 12, Paris, Los Angeles
 "Paris City of Light" book presentation & exhibition, Steven Kasher Gallery, New York
 "Paris City of Light", Bernheimer Fine Art Photography, Munich
 "City Portraits: Munich, New York, Venice, Parist", Bernheimer Fine Art, Lucerne
 Wahrheiten . Werke aus der SØR Rusche Sammlung Oelde/Berlin, group exhibition including "Passion #16″, Bayer
 Kulturhaus Leverkusen
 "Venice in Solitude", Paris Photo Fair, Bernheimer Fine Art Photography, Munich
 Art Photography, Munich
 "Munich Elegies", HIGHLIGHTS International Art Fair Munich, Bernheimer Fine Art Photography/Colnaghi, Munich/London
 Museum Kirche zum Heiligen Kreuz, Zittau
2013"Colour Today!" and "90 cans series", group exhibition, Bernheimer Fine Art Photography, Munich
 "seelenblicke", KunstKulturKirche, Frankfurt
 "New York Sleeps", Photolux Festival, Lucca
 "90 cans", Paris Photo Fair, Hamiltons Gallery, London
 "Venice in Solitude", Foto Fever Paris – Gallery Photo 12, Paris, Los Angeles
 Leitzachtal, Tannerhof, Bayrischzell
 "City Portraits, Venice & New York", Elipsis Gallery, Istanbul
 "Burnt Women", Bernheimer Fine Art Photography, Munich
 "Passion", Paris Photo Fair, Bernheimer Fine Art Photography, Munich
 "Munich Elegies", HIGHLIGHTS International Art Fair Munich, Bernheimer Fine Art Photography/Colnaghi, Munich/London
 "Passion Inri", Christopher Thomas & Ewald Mataré, Sankt Rochus, Düsseldorf
2012"Venice in Solitude" & New York Sleeps, Paris Photo Fair – 51 Fine Art Photography, Antwerp
 "Venice in Solitude", Paris Photo Fair, Hamiltons Gallery, London
 "Venice in Solitude", Hamiltons Gallery, London
 "Venice in Solitude", Bernheimer Fine Art Photography, Munich
 "Venice in Solitude", Fifty One Fine Art Photography, Antwerp
 "Venice in Solitude", Steven Kasher Gallery, New York
 "Passion", Galerie Photo 12, Paris
 "New York Sleeps", Helsinki Photography Biennial
 "New York Sleeps", Museum im Kleihues-Bau, Kornwestheim
 "Venice in Solitude" & "Passion", Masterpiece, London
 "New York Sleeps", Paris Photo Fair, Bernheimer Fine Art Photography, Munich
2011"Passion", Bayerisches Nationalmuseum, Munich
 "New York Sleeps", The Wapping Project Bankside, London
 "Passion", Paris Photo Fair, Bernheimer Fine Art Photography, Munich
2010Munich. New York. Photographs, 
Bernheimer Fine Art Photography, Schloss Fuschl, Fuschl, Austria
 "New York Sleeps", Fifty One Fine Art Photography, Antwerp
 "New York Sleeps", Credit Suisse AG, Kunst im Palais am Lenbachhaus, Munich
2009"New York Sleeps", Steven Kasher Gallery, New York
 "New York Sleeps", Bernheimer Fine Art Photography, Munich

2008"Munich Inspires", Exhibition on the occasion of the 850th city anniversary, 
Literaturhaus, Munich
2006"Munich Elegies", Fotomuseum Munich